Join Sasin and transgender leadership advocate TransTalents to learn why the future of inclusive business in Thailand will be led by the LGBTQAI+ community–especially transgender leaders. Get a chance to learn how to become an inclusive entrepreneur through discussions with transgender professionals leading within some of Thailand's top corporations. This event is an important part of Sasin's inclusion initiatives (IDEALS) and is a research and impact collaboration led by Sasin Inclusion Ambassador and faculty, Dr. Drew B. Mallory. Learn more at 
www.sasin.edu/inclusion
REGISTER HERE!
Date: Wednesday  November 30, 2022
Time: 4.00 PM – 5.30 PM
Venue: Sasin School of Management
Benefits of joining the session:
Hear unique perspectives from a diverse group of people
Network and share your thoughts with leaders from major Thai companies that have integrated an inclusive culture
Join the discussion about LGBTQAI+ inclusion and empowerment in business
Get insights into inclusion issues in Thailand and help find solutions
Experts joining the panel discussion:
Nikki Phinyapincha
Founder, TransTalents Consulting Group
Transtalents is an organization that empowers trans people professionally and as leaders. Nikki is a Strategic Communication Consultant, Speaker, and Moderator in the communication business and LGBTQ diversity & inclusion topics.
Jessy Dangboonrueng
Head of Business Development & Strategic Partnerships, Ninja Direct
Jessy is a strategic thinker with a knack for design and creativity and a passion for developing new businesses and start-ups.
Kanattsanan Dokput
Head of Customers Service
Kanattsana specializes in customer success and customer service with a proven background in digital platform sales and support management.
Koko Tiamsai
Internal Communications, Diversity & Inclusion Manager, Foodpanda
Koko is a gender scholar and communication professional with extensive experience in Corporate Communication, Political Communication, Gender & Media, Public Relations, Corporate Social Responsibility (CSR), and Social Development. The moderator for the session will be
Assistant Professor Drew B. Mallory, Sasin Inclusion Ambassador
.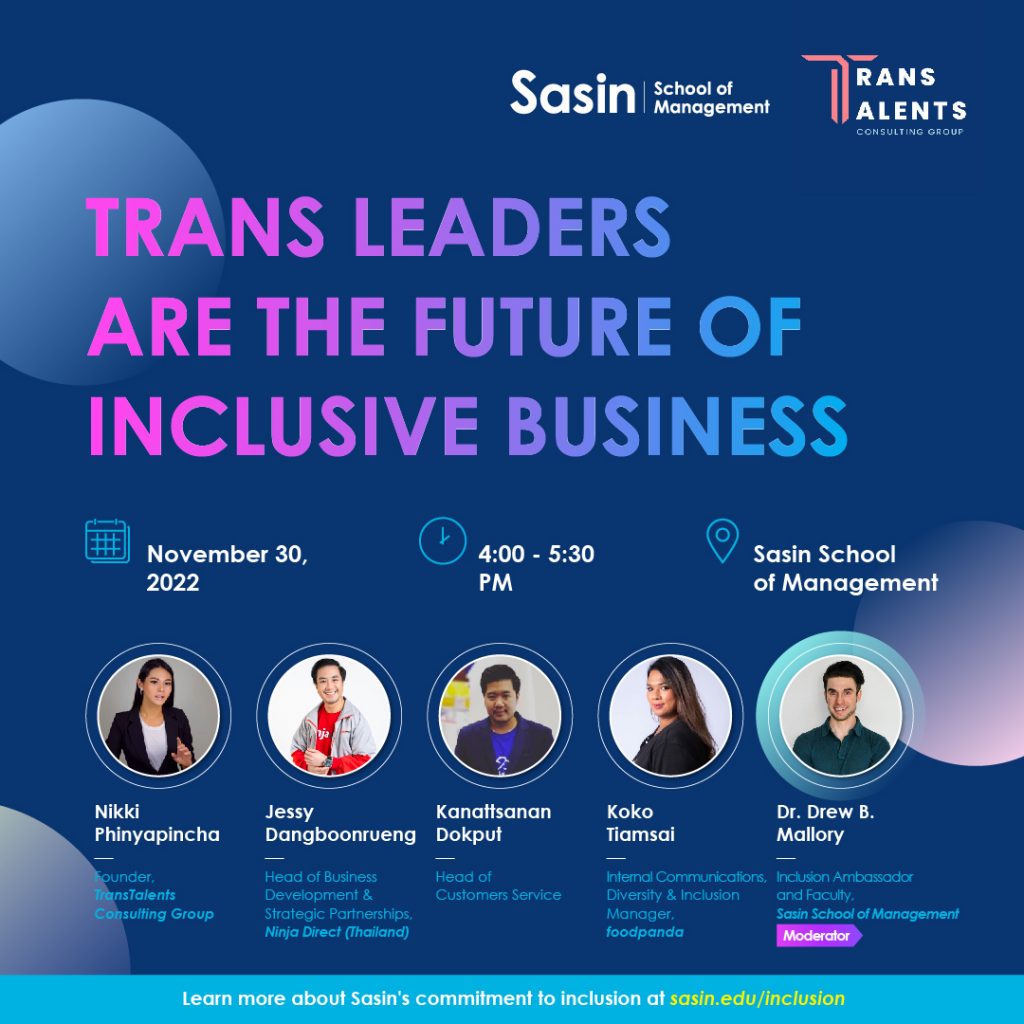 You might be interested in...