The industrialisation and capitalism that drove the development of our societies in the last 200 years catalysed enormous progress in the world. Productivity rose exponentially, world GDP per capita increased 15-fold, life expectancy more than doubled, billions were lifted out of poverty and the pace of innovation reached levels never seen before. These last decades however, it has become dramatically clear that focus on economy alone in many ways has become a destructive force. Environmental and social costs, inherent but previously 'hidden' in the old growth model, are becoming glaringly visible: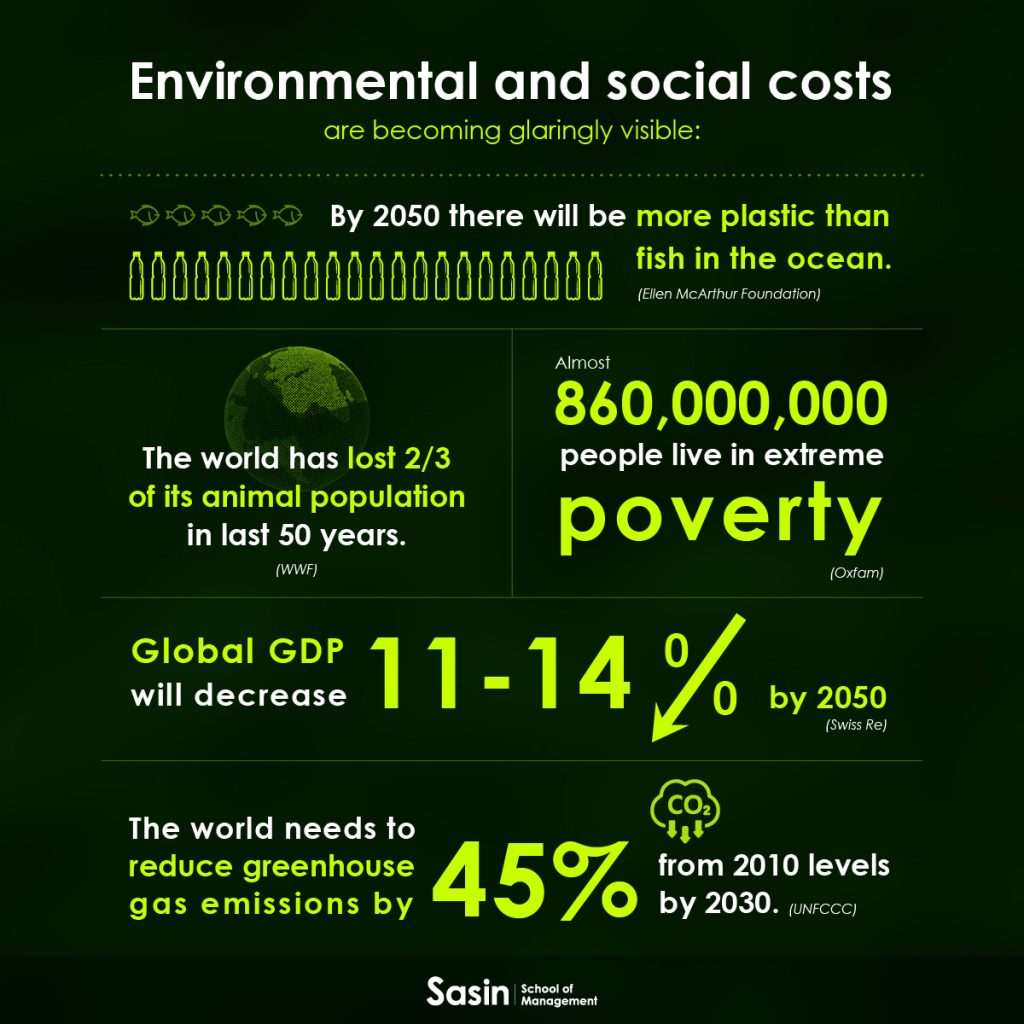 At current rates of plastic waste production and fisheries depletion, by 2050 there will be more plastic than fish in the ocean (Ellen McArthur Foundation).
The world has lost 2/3 of its animal population in last 50 years, 70% of this caused by land conversion for agriculture (WWF).
Of all the new wealth created in the world, the richest 1% of the world's population captures 20 times more than the poorest 50% (Oxfam). Almost 860 million people live in extreme poverty, lacking basic life opportunities like healthcare or education.
The impacts of climate change will reduce global GDP by an estimated 11-14% by 2050, in South and SE Asia possibly by up to 30% (Swiss Re)
To keep global warming to the Paris target of 1.5 degrees Celsius, the world needs to reduce greenhouse gas emissions by 45% from 2010 levels by 2030. Based on national action plans available today, global emissions are projected to increase by 14%. (UNFCCC)
Our systemic challenges of climate change, natural capital destruction and rising income inequality are unfairly impacting the bottom of the pyramid, putting pressure on the social contract and risking geo-political stability, while materially impacting business through increased supply chain, operational and compliance risks. We need a new growth model that:
works with nature, not against it,
creates well-being in the longer term, not only now
includes all, not just a lucky few.
As of June 2022, over 35% of the 2000 largest companies in the world have committed to becoming net zero between 2030 and 2050, representing total revenue more than 5 times the GDP of ASEAN combined. These companies and their supply chains will change radically over the coming decade. This transformation is the most urgent challenge, but also the biggest commercial opportunity of our generation. On August 4-5, 2022, I will be sharing insights from my sustainability leadership work of the last decade with some of the world most successful multinationals from the US and EU, in a highly informative and interactive course at
Sasin 'Leadership for a Sustainable Future: Moving beyond ESG to create real value'
. What can SE Asian companies learn from the sustainability transformation journey of EU and US pioneers and what does this mean for SE Asian leaders? I look forward to exchanging thoughts with you!
---
Geert-Jan (GJ) van der Zanden
is visiting professor Sustainability Leadership at Sasin School of Management and Managing Director at Xynteo, which helps reinvent leadership and drive the sustainability transformation of and with some of the world's most progressive companies.
---
You might be interested in...