At
Sasin School of Management,
business education is not only about evolving theoretical foundations. It also emphasizes the relevance of implementing sustainable business practices focusing on framing entrepreneurial spirit with deep empathy, compassion, and consideration. One example of this practice in our curriculum at Sasin is the action learning of MBA students in our marketing class. Action learning provides a vehicle to complete the learning process of application to utilization by bridging the academic world and the world of business practices. It is also a teaching approach that involves taking action and reflecting upon the outcomes, allowing students to gain hands-on experience in starting a business and solving real business problems.
Dr. Yupin Pattarapongsant
teaches a course on Pricing Strategy, focusing on value creation in products, services, and experiential strategies. In one of her classes, MBA students learn to understand the theoretical foundations, then go on a field trip to put the theory into practice.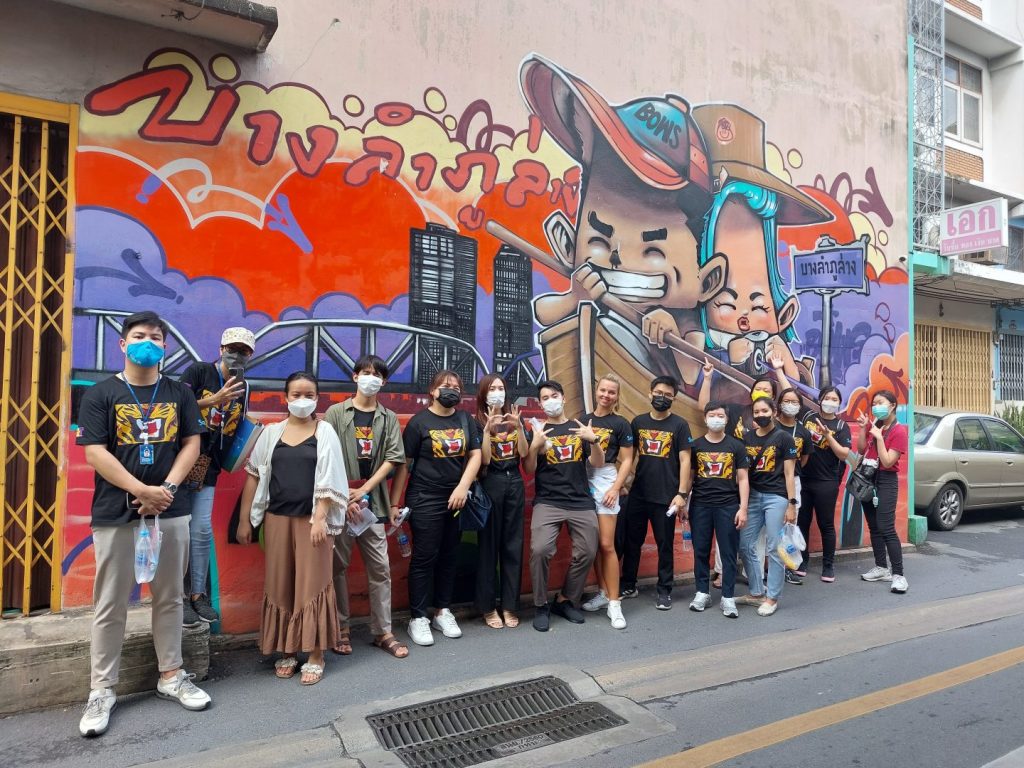 This year, Sasin MBA students worked on ideation for social innovation in building creative communities by bringing teams to visit the Banglamphu Lang community (Bangkok, Thailand), specifically the sub-district economy zones. In creative communities, the value creation process is applied to develop social business creation concepts by utilizing the local community's assets, arts, and culture. Social innovation ideation can occur by visiting the sub-district economy areas, which has kept its traditions from the Ayutthaya era. These areas include Wat Sawetchat and the Luang Por Bot Bon community in Bang Lamphu Lang subdistrict and Khlong San District, on the Thonburi side of Bangkok. People living in these communities inherited the art of performing the Thai traditional play, Kratua Thaeng Sua (A Tiger Hunt), since the Ayutthaya era. In addition, communities have practiced old traditions as a way of life, which are different from the Phra Nakhon side of Bangkok. Several local foods, including Cho Muang, Thai dumplings, Khao Tang Na Tang, Crispy Noodles, Khao Tok Tang, and Som Chun, also remain a traditional food through the generations. With a proper value creation process, students learn that the knowledge from their MBA course can help transform the community and generate income by utilizing local assets, arts, and culture to make the community sustainable. By visiting local communities, Sasin MBA students learned the importance of traditional cultural values rooted in history. This discovery is related to the perspective and vision of being a businessperson who can add value to existing local products and services. In addition, creating a differentiation strategy is the key to continuing in the market using what the community traditionally has. Before working in the community, students completed the foundation theory. The goal for students is to apply what they learned with what they see from the actual field study, jointly ideating social innovation business ideas. Through this process, Sasin creates a new generation of businesspeople with an entrepreneurial spirit who are socially responsible. Students bring the knowledge learned in the classroom, combining them with the local assets and traditions in products and services. The project aims to generate income in the community and encourage sustainable growth without destroying the root of its identity. Students then present their ideas and get feedback from the instructor and local stakeholders.
You might be interested in...