Hosted by Sasin School of Management with collaboration from dtac, Lotus's and Tyson Foods,
Business Triathlon 2021 by Sasin
is the first action-learning competition for Bachelor's Degree students in Thailand. The competition offers a unique learning experience to students by challenging them with real management issues from sponsored companies. The first-round competition brought together enthusiastic students from over 237 teams, from 20 faculties of 8 top universities all over Thailand, including Chulalongkorn University, Thammasat University, Mahidol University, Kasetsart University, Assumption University, King Mongkut's Institute of Technology Ladkrabang. On March 4, 2021, the second-round competition was live streamed via
'Business Triathlon by Sasin' Facebook Page
. In this round, the 30 qualified teams were required to develop a brief business proposal with creative and strategic ideas to crack the challenging project scope. Our privilege executives from 3 companies namely, Mr. Ukrit Salyapongs (Senior Vice President – Head of Commercial Strategy, Planning and Insights Division, Marketing Group) from dtac, Dr. Sarinthip Satitsatian (Category Director – Process & Convenience Food) from Lotus's and Mr. Tan Sun (President of Tyson APAC) from Tyson Foods, also participated in the event. The 15 finalist teams are going to work closely with mentors and executives from sponsoring companies for 42 days to prepare a strategic plan and test their ideas through pilot project with the given 5,000 THB budget. They need to pitch their final solutions to the panel of judges in
the final round on April 28, 2021
, to win the total cash prize of up to 390,000 THB. Here are the 15 finalist teams: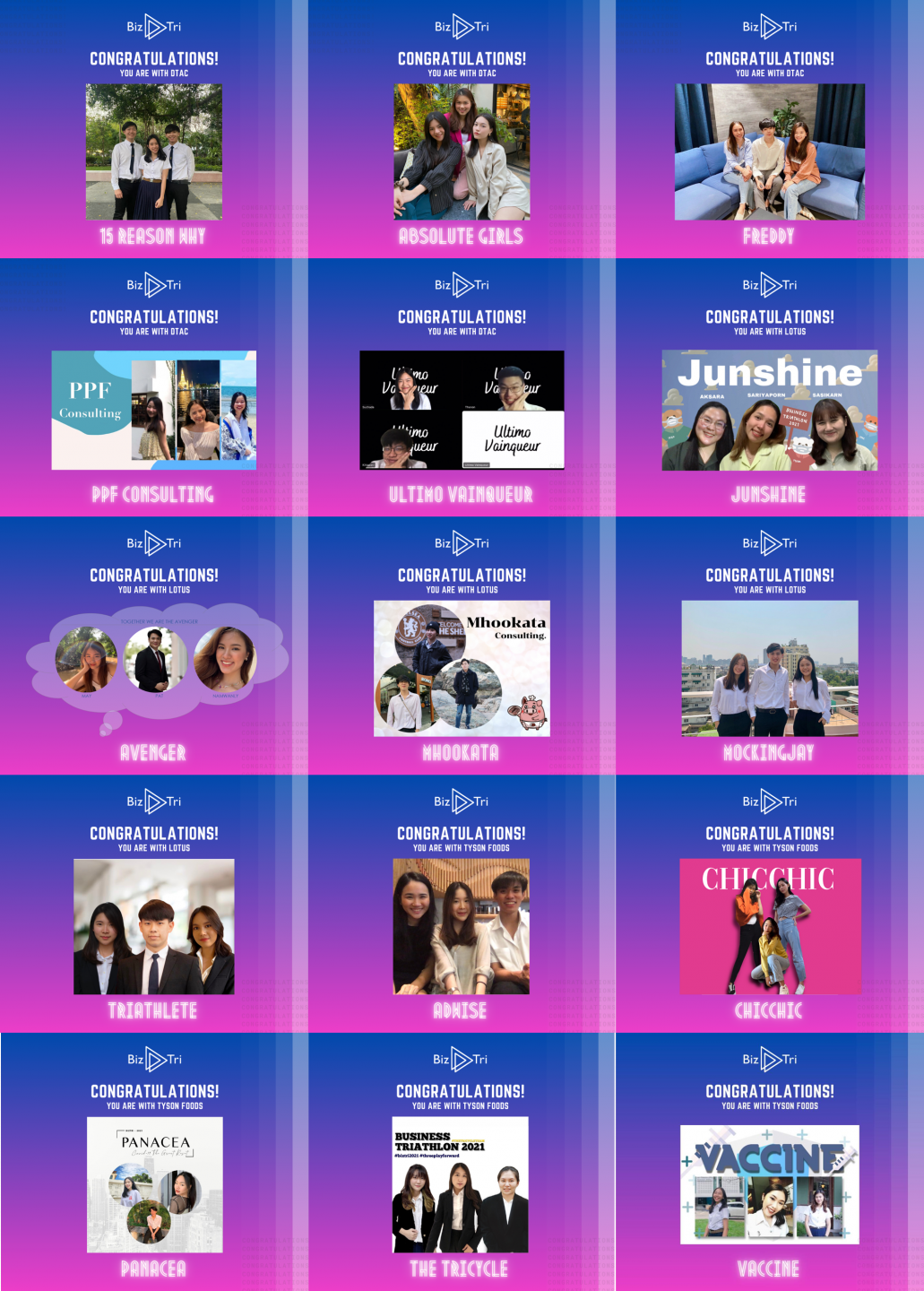 You might be interested in...