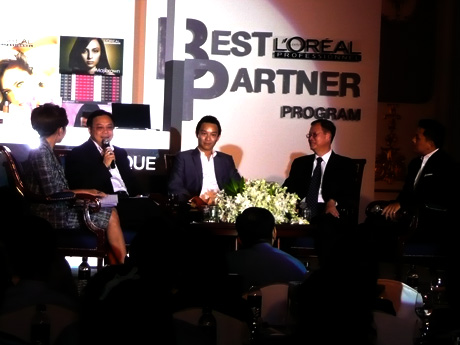 L'Oreal Thailand Ltd. has requested Sasin Graduate Institute of Business Administration of Chulalongkorn University to conduct the "LP Best Partner Program Forum – – Sasin Business Forum" for eighty salon wholesalers under L'Oreal Paris Professionnel and Kerastase product of L'Oreal Thailand.
The panelists was as follows:
Mr. Anurut Vongvanij (Sasin EMBA alumni, Class of 1993)




President, The British Dispensary (L.P.) Co., Ltd.

Mr. Phaisal Asavasopon (SEP-14 & ASEP-2)
Managing Director, The Asavasopon Co., Ltd.
Mr. Polpat Asavaprapha
Creative Director, Asava Co., Ltd.
Mr. Srayut Ekahitanonda
Vice President – Development, Let's Sea Hua Hin Al Fresco Resort
and Assistant Professor Kritika Kongsompong, Ph.D., Sasin Faculty in Marketing is moderator. The Forum was held on July 19, 2010 at the Mandarin Oriental Hotel.
You might be interested in...