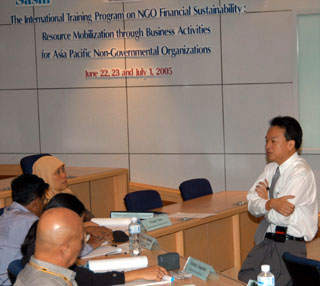 The Population and Community Development Association (PDA) asked Sasin Graduate Institute of Business Administration of Chulalongkorn University to conduct a series of seminars entitled NGO Financial Sustainability: Resource Mobilization through Business Activities for Asia Pacific Non-Governmental Organizations. The first session was held in May 2005 for 14 members of NGO's from 5 countries: India , Pakistan, the Philippines, Thailand and Vietnam. The latest session was held June 22 – 23 and July 1, 2005 at Sasa Patasala Building for twenty members of NGOs from the Philippines and Vietnam and 6 additional countries including Indonesia, Malaysia, Singapore, South Korea, Sri Lanka, Taiwan.
Once again the seminar leaders were Professor Phillip A. Braun, Associate Professor Dr. SathitParniangthong, Dr. Kritika Kongsompong and Dr. Pattarake Sarajoti and who will run yet another session on July 27, 28 & August 5, 2005.
You might be interested in...