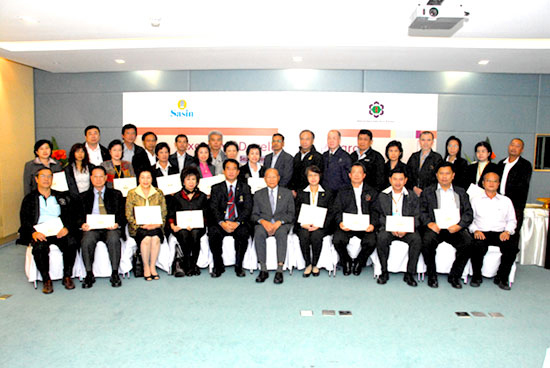 The Industrial Estate Authority of Thailand (IEAT) has requested Sasin Graduate Institute of Business Administration of Chulalongkorn University to conduct the training on "Executive Development Program" for thirty-eight administrators of IEAT on September 4, 11, 18 & 25, 2009 at Sasa Patasala Building.
The program was conducted by faculty members of Sasin Graduate Institute of Business Administration as follow:
– Logistics and Supply Chain Management for Executives
by Associate Professor Chaipong Pongpanich, Ph.D.
– Marketing to Counter the Economics Crisis
by Assistant Professor Krittinee Nuttavuthisit, Ph.D.
– Customer Centric
by Associate Professor Sathit Parniangtong, Ph.D.
– Advanced Financial Statement Analysis for Executives
by Piman Limpaphayom, Ph.D.
On September 4, IEAT's Governor Ms. Monta Pranootnorapal presided over the opening session to deliver the opening remark.
Meanwhile, the closing remark and the certificate presentation on September 25 was conducted by Sasin Director Professor Toemsakdi Krishnamra.
You might be interested in...