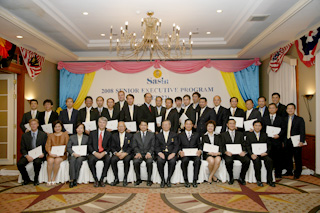 In order to enhance and increase management effectiveness for  senior executives, the Sasin Graduate Institute of Business Administration of  Chulalongkorn University organized a Senior Executive Program from August 10 – 30, 2008 at the Dusit Thani Hua Hin,  Petchburi. The program was conducted in English by professors from the Kellogg School of Management, Northwestern University, the Wharton School of the University of Pennsylvania and Sasin Graduate Institute of Business Administration of Chulalongkorn University. In 2008, 29 executives participated in the program. SEP offered senior managers
increased understanding of the ways in which different areas of business function, and how these areas can be integrated so that the organization runs more effectively.

awareness of the tools and techniques available to modern management.

techniques for achieving a better understanding of the complex environment within which the organization functions and for evaluating its impact.

increased analytical ability in solving business problems.

skills in executing decisions effectively and in dealing with the consequences of decisions.

insights into how an enterprise can be directed as an integrated, strategically directed unit.
Topics and Instructors 1. Global Economic Environment  –  Sethaput Suthiwart-Narueput, Ph.D. 2. Corporate Governance –  Professor Donald P. Jacobs, Ph.D. 3. Marketing Product & Process Innovation – Professor Dipak C. Jain, Ph.D. 4. Leadership and Organizational Change – Professor Michael Useem, Ph.D. 5. Corporate Financial Decisions – Professor Olivier Tabatoni, Ph.D. 6. Strategic Impact of Information Technology – Associate Professor Mark Jefferey, Ph.D. & Assistant Professor Russell Walker, Ph.D. 7. Strategic Management – Professor Paul  A. Tiffany, Ph.D.
On August 29, 2008, the closing session with conferment of diplomas was presided over by  Khun Prasert Bunsumpun, President & CEO, PTT Public Co., Ltd. and Member of Sasin Advisory Board. On August 23, 2008, Sasin organized the special address on "Profitability Growth Paradox" by Professor Olivier Tabatoni for ASEP & SEP alumni and participants at Dusit Royal Hall, Dusit Resort Hua Hin, 215 alumni, participants and family participated in this special event. Sasin's next SEP program will run on August 9 – 29, 2009.
You might be interested in...