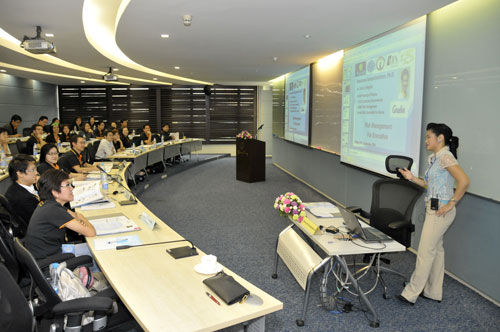 Cerebos (Thailand) Ltd. has requested Sasin Graduate Institute of Business Administration of Chulalongkorn University to conduct the training on "Management Development Program" for thirty-eight executives of the Company on September 10 – October 6, 2010 at Sasa Patasala Building. The program was conducted by faculty members of Sasin Graduate Institute of Business Administration as follow:
1. Risk Management
Speaker: Wantanee Surapaitoolkorn, Ph.D.
2. Topic: Corporate Financial Strategies
Speaker: Piman Limpaphayom, Ph.D., CFA
3. Topic: Leadership & Change Management
Speakers: Associate Professor Siriyupa Roongrerngsuke, Ph.D. and Sarote Phornprapha, Ph.D.
5. Logistics and Supply Chain Management for Executives
Speaker: Chaipong Pongpanich, Ph.D.
6. Digital Marketing
Speaker: Professor Ian Fenwick
7. Strategic Thinking and Management
Speaker: Professor Paul A. Tiffany
On September 10, Khun Tul Wongsuphasawat, General Manager (Marketing & Business Management) of Cerebos (Thailand) Ltd. and President of Marketing Association of Thailand presided over the opening session.
On October 6, the closing session with certificate presentation was conducted by Professor Suthi Ekahitanonda, Deputy Director for Academic Affairs.
You might be interested in...